FUNCTIONALITY.
Loads of room and room to load: Transporting heavy or bulky objects is no problem in the BMW X5 – thanks to a variety of practical and space-saving features.
Both on the inside and on the outside, the BMW X5 is extremely versatile. For example, with the dual-section tailgate: The upper tailgate swings up high and allows smaller, lighter objects to be conveniently stowed and removed. The lower tailgate creates a platform flush with the load compartment floor when open, allowing luggage to be set down before being loaded.
The tow bar can not only bear a load of between 2.7 and 3.5 t (depending on the engine fitted), but also offers a high degree of safety. The trailer stability control system recognises when the trailer is swaying dangerously and activates the brakes of the towing vehicle and the trailer in order to restore stability quickly.
Versatility is just as prominent in the spacious interior, too. The rear seats can be folded down in a ratio of 40:20:40, ensuring that the space available can be maximised for passengers and luggage alike. The Storage compartment package improves the vehicle's practicality with many intelligent solutions for storing small and large items. This includes a glasses compartment, as well as hooks, nets and lashing rails with eyelets in the luggage compartment.

MULTIFUNCTIONAL INSTRUMENT DISPLAY.
The Multifunctional Instrument Display with black panel technology and a screen diagonal of 10.25" provides a highly impressive visualisation of the driving experience.
At the same time, it helps the driver to concentrate on the road ahead by displaying relevant information and prevents distraction.
Three different modes and their specific characteristics – each of which have their own colour scheme and graphic style – can be displayed in the instrument cluster: Comfort, ECO PRO and Sport modes. While Comfort Mode largely retains the appearance familiar up to now, blue tones dominate the display in ECO PRO Mode, in which the new EfficientDynamics and Bonus Range displays aid the driver in achieving the most efficient driving style possible. Sport Mode, in contrast, is recognisable by its red colours, and includes performance information.
The Multifunctional Instrument Display also allows navigational information to be displayed, including tips from the Route-Ahead Assistant, as well as lists from the entertainment and telephone functions.
REAR-SEAT ENTERTAINMENT PROFESSIONAL.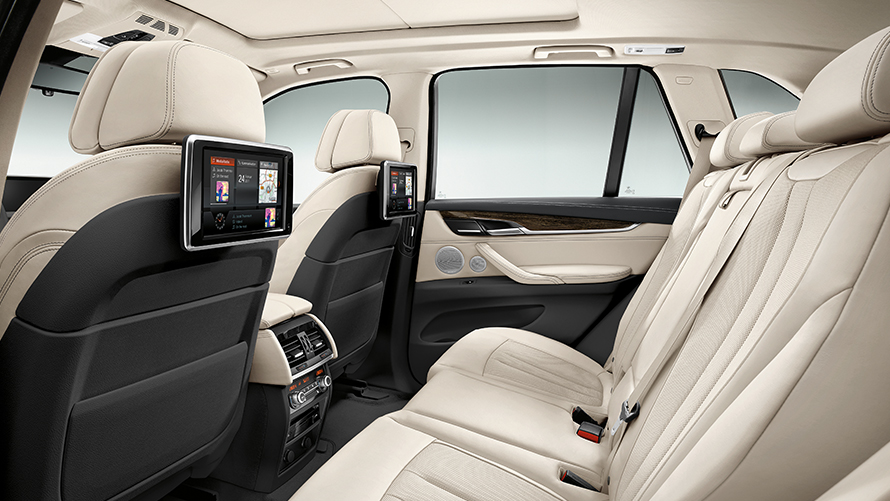 REAR-SEAT ENTERTAINMENT PROFESSIONAL.
The very best entertainment.
Rear-seat entertainment Professional provides excellent entertainment for rear passengers thanks to two separate colour displays. An additional Blu-ray player or an HDMI connection in the rear even makes it possible to play different films on both of the 10.2" monitors in a resolution of 1,280 x 720 pixels.

They can also watch television programmes, surf the internet, access other online features (depending on the mobile phone contract), use an MP3 player, have fun with a game console, etc. The sound is emitted via loudspeakers or headphones (can also be used with wireless headphones). Rear-seat entertainment Professional can be operated conveniently via remote control. Passengers in the rear can even access navigation functions for route planning and suggestions (if a navigation system is featured).

BMW SERVICE INCLUSIVE.
BMW SERVICE INCLUSIVE.
A combined service and maintenance package for you.
BMW Service Inclusive is the first step towards unlimited driving pleasure. It is a service package covering all essential service and maintenance work.
BMW Service Inclusive covers all regular service and maintenance work for a specified period or mileage − and it's valid worldwide. This includes: Engine oil service including top-up quantities (requirement: regular engine oil service at an authorised BMW service dealership), microfilter, fuel filter, air filter and spark plug service, change of brake fluid, automobile check and other services as per service record.
*Disclaimer :

Service and equipment availability may vary in Indonesia, please contact your BMW authorized dealership for more information and detail.