The BMW 3 Series Touring brings innovation, functionality and sporty dynamics to perfection. As a true athlete among the all-rounders, it combines highly efficient TwinPower Turbo engines, perfectly tuned chassis components and state-of-the-art assistance systems to impress with driving dynamics that are unsurpassed in its segment. It brings this supremacy to the road - even when stationary. With innovative solutions for the interior and the intelligent, digital BMW Personal Assistant, it takes a lot off your hands if you wish - and thus creates time for the really important things in life.
Read more
THE DESIGN OF THE BMW 3 SERIES TOURING.
An athlete through and through: the sporting genes of the BMW 3 Series Touring are plain to see at first sight. The modern, flat front design reinterprets the interplay between the characteristic double kidney grille and the front headlights and emphasises its extremely sporty stance on the road. Defined lines and soft surfaces create a familiar silhouette typical for BMW Tourings. Combined with its powerful shoulder lines they convey an impression of pure strength and extremely aerodynamic properties. The interior skilfully seizes on this combination of elegance and athleticism to mixes it with modern comfort and innovative functionality.
Read more
EXPERIENCE THE DESIGN OF THE BMW 3 SERIES TOURING.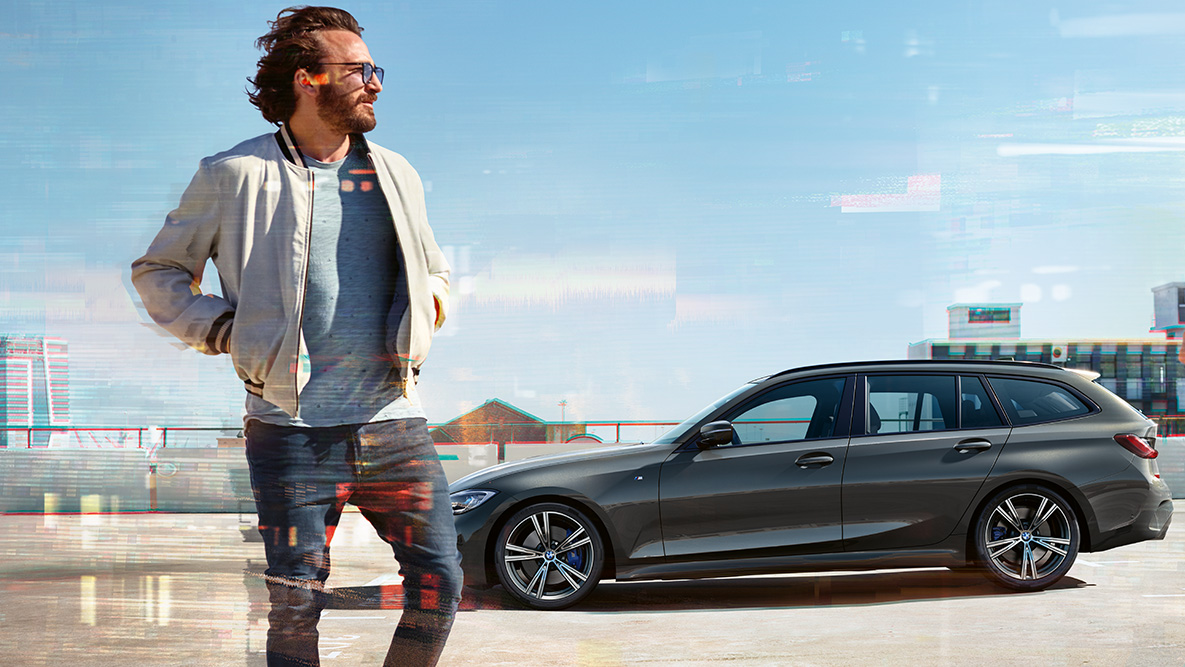 Exterior and interior design of the BMW 3 Series Touring.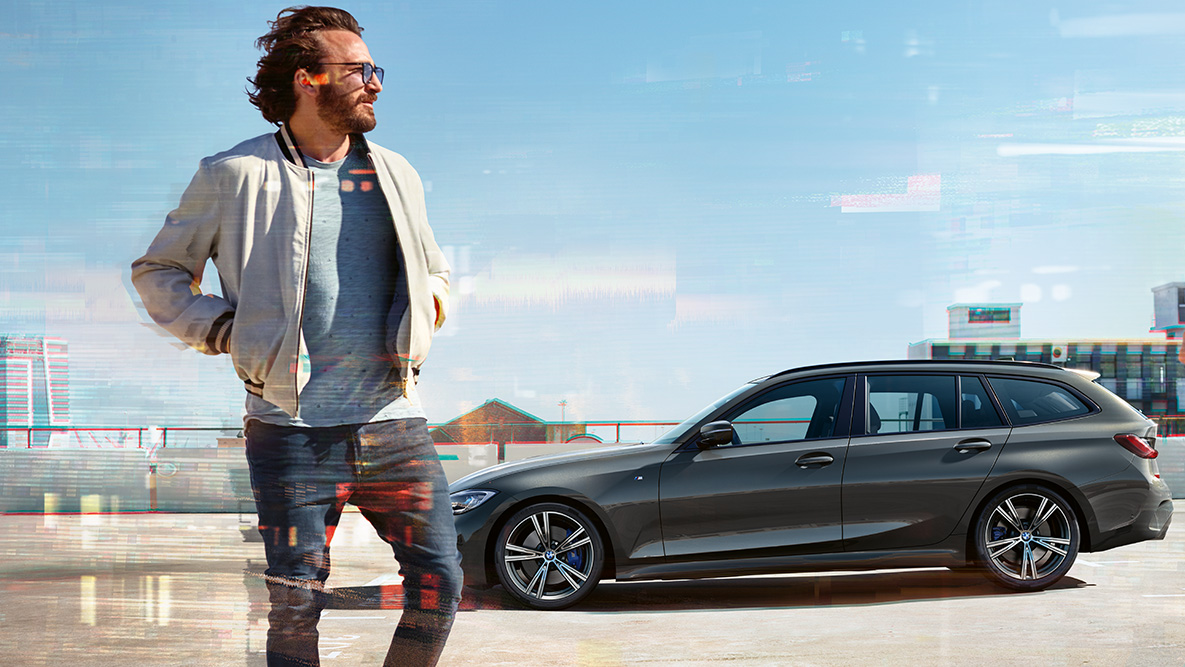 INNOVATIVE FUNCTIONALITY IN THE BMW 3 SERIES TOURING.
Be it for the family holiday, a weekend trip or a shopping spree – the BMW 3 Series Touring brings comfort to your daily routine. It offers a variety of innovative stowage and storage options for the interior and luggage compartment to make room for everything that you want to take with you. The rear seats fold down automatically at the touch of a button to treble the load volume in seconds and allow you to store even bulky items. The innovative anti-slip rails on the floor of the boot allow even heavy luggage to be stowed securely: They rise fully automatically when you set off and fasten the luggage in position. And thanks to the innovative Comfort access system, a brief movement of the foot below the rear bumper is all it takes to trigger the opening and closing of the tailgate. This and many other features make the BMW 3 Series Touring the sportiest miracle of space in its class.
Rear window opening separately.
The rear window, which can be opened separately, is particularly practical for stowing or removing smaller pieces of luggage without having to open the entire tailgate.
BMW Laserlight.
In laser high-beam mode, the Adaptive BMW Laserlight illuminates a range of up to 530 m, nearly twice as far as that of conventional headlights. Better visibility in the dark significantly increases safety. Blue accents and the lettering "BMW Laser" in the headlight also underline the technological standards and the sportiness of the vehicle.
Welcome Light Carpet.
The Welcome Light Carpet function projects an ambient light graphic in front of the vehicle doors and creates a surrounding welcome ambience right at the entrance. The light carpet also makes getting out in the dark even more comfortable and safe.
Through-loading system.
The Through-loading system includes rear seat backrests that can be divided in a 40:20:40 ratio for the greatest possible flexibility. For example, two passengers can be seated comfortably in the rear, while long objects such as ski and snowboard bags can be transported at the same time. The two cupholders in the centre armrest are very practical.
Storage compartment package.
The Storage compartment package includes a hinged compartment on the driver's side of the instrument panel, nets on the back of the front-seat backrests, as well as two USB ports with charging function in the rear centre console. There is also an extra storage net on the right side for smaller items and a tensioning belt on the right side.
Ambient light.
Ambient light, including Ambient contour lighting in the front and rear doors, creates a relaxed, cosy lighting atmosphere in the interior. The six dimmable lighting designs also include a dynamic function in four applications. The Welcome Light Carpet illuminates the area in front of the vehicle doors when entering and exiting.
THE BMW 3 SERIES TOURING PLUG-IN HYBRID MODELS.
Discover the BMW 320e, BMW 320e xDrive, BMW 330e and BMW 330e xDrive Touring with innovative hybrid drive.
The best of both worlds: with the BMW 3 Series Touring plug-in hybrid models BMW 320e, BMW 320e xDrive, BMW 330e and BMW 330e xDrive, you experience sustained mobility and efficient driving dynamics. Explore the numerous benefits of these innovative BMW hybrid vehicles and find out more about drive concept, driving dynamics, BMW Charging and practical digital services from BMW ConnectedDrive.
The plug-in hybrid technology of the BMW 3 Series Touring.
Two in perfect harmony: the 3 Series Touring plug-in hybrids BMW 320e, BMW 320e xDrive, BMW 330e and BMW 330e xDrive combine the BMW eDrive electric drive technology with a powerful BMW combustion engine. Together the two drive units produce a driving experience that links maximum efficiency with supreme driving pleasure – and, depending on the drive mode, either locally emission-free and almost silent or with a thrillingly high torque and sufficient reserves for longer journeys as well. In the BMW 320e xDrive and BMW 330e xDrive Touring, the all-wheel drive system BMW xDrive, unique for plug-in hybrids in this segment, is an extra guarantee of optimum dynamics and traction. So-called recuperation, in which kinetic energy is transformed into electrical energy and fed into the battery during braking, additionally delivers a valuable contribution to the efficient driving experience.
Drive modes of the BMW 3 Series Touring plug-in hybrids.
Purely electric and emission-free on the way to work or powerfully dynamic and with sufficient range for the weekend excursion – the BMW 3 Series Touring hybrid vehicles 320e, 320e xDrive, 330e and 330e xDrive leave all your options open. Benefit from intelligent driving modes that ensure the optimum interplay of combustion engine and electric motor for every situation – and experience the fascination of a future-oriented technology and a unique driving experience.
Charging the BMW 3 Series Touring plug-in hybrids.
Whether at home or on the road: BMW Charging offers you tailor-made solutions for charging your BMW 3 Series Touring with hybrid drive. Alongside the Standard charging cable (mode 2) for domestic socket outlets supplied as a regular feature, the BMW Wallbox provides you with an extremely convenient, safe and fast method of charging. The Smart Wallbox from our partner offers more additional services for intelligent charging. The installation service ensures straightforward and correct mounting of the wallboxes. The Flexible Fast Charger is available for maximum flexibility during charging at home and enables you to charge your BMW plug-in hybrid from every domestic or industrial socket using a variety of different adapters. In addition to the Standard charging cable (mode 2), the supply schedule of the BMW 3 Series Touring plug-in hybrids also includes the charging cable (Mode 3) for public charging as well as the BMW Charging Card that offers you attractive conditions for public charging*. The charging time (0–100%) of the BMW 3 Series Touring models BMW 320e, BMW 320e xDrive, BMW 330e and BMW 330e xDrive is approximately 3.6 hours at a charging capacity of 3.7 kWh (BMW Wallbox, Flexible Fast Charger, public charging stations) and approx. 6.0 hours at a charging capacity of 2.3 kWh (domestic socket).
* market-specific offer
Digital services for the BMW 3 Series Touring plug-in hybrids.
Get the most out of every metre of your journey: BMW offers you innovative digital services that make everyday life with your BMW 3 Series Touring 320e, 320e xDrive, 330e or 330e xDrive even easier and more convenient. BMW Connected Charging directs you reliably to the nearest charging stations on your route and delivers additional detailed information such as which charging point is vacant, what costs you will incur and where you can make best use of the charging time in the surrounding area. Using the My BMW App ensures you of full transparency on the charge level and the last charging cycles. A push notification, for instance, will arrive as soon as your vehicle is fully charged. Other digital services such as the BMW Intelligent Personal Assistant or Smartphone Integration additionally make your everyday mobility easier – for relaxed driving pleasure in your BMW 3 Series Touring with plug-in hybrid drive.
ASSISTANCE SYSTEMS AND CONNECTIVITY IN THE BMW 3 SERIES TOURING.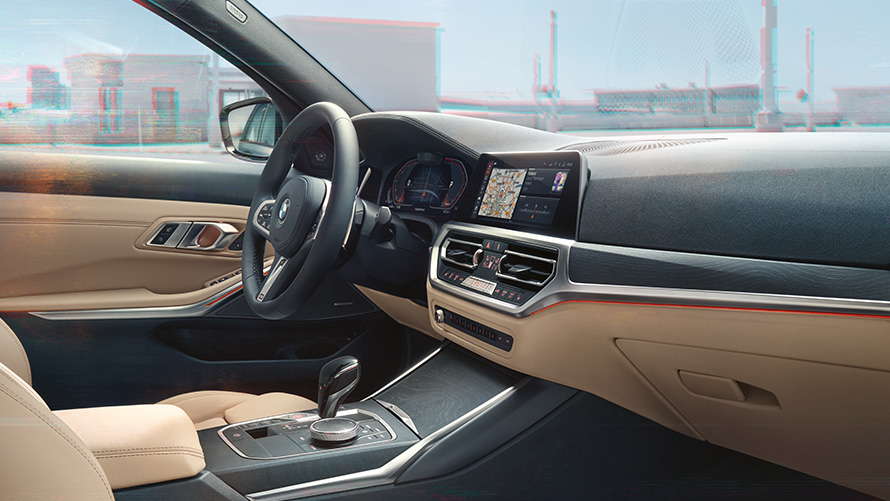 The BMW 3 Series Touring aspires to bring you safely to your destinations – and to turn your drive into a sporty experience. To achieve this the intelligent features of the Driving Assistant Professional and the Parking Assistant already enable partially automated driving. Alongside the Active Cruise Control with Stop&Go function incl. collision, pedestrian and cyclist warning with braking function, the steering and lane control assistant support you at speeds of up to 210 km/h. Continuing to pave the way towards autonomous driving the Parking Assistant and the Reversing Assistant maneuver you independently in and out of parking spots. For optimum comfort and maximum safety – in all driving situations. Helping to achieve this, the innovative BMW Intelligent Personal Assistant functions as a constant companion. It notes your individual decisions and settings and thus gets to know you better with each passing day. When required, it controls navigation, entertainment and office functions and always knows the fastes way to your favourite Italian restaurant. Like a genuine assistant, it answers questions concerning the vehicle to make you familiar with your BMW 3 Series Touring and its variety of innovative features and functions.
INTUITIVE AND ANTICIPATIVE.
Driver assistance
Connectivity
Driving Assistant Professional.
Driving Assistant Professional offers optimum comfort and safety during critical or monotonous traffic situations. Apart from the contents of the Driving Assistant, it also includes Steering and Lane Control Assistant with extended functions, Lane Change and Emergency Stop Assistant and Lane Keeping Assistant with active side collision protection.
Parking Assistant Plus.
Parking Assistant Plus makes parking and manoeuvring the vehicle easier. It features among others the Surround View system including Top View, Panorama View, Remote View 3D, as well as a lateral parking aid, the emergency braking function Active Park Distance Control, Parking Assistant with linear guidance and Reversing Assistant.
BMW Drive Recorder
The BMW Drive Recorder allows you to record a video from the vehicle environment and play the video on the central Control Display or via USB export also on your device. Important vehicle information such as speed and GPS position are stored synchronously with the video. The BMW Drive Recorder has two sub-functions, the Event Recorder and the Crash Recorder.
BMW Live Cockpit Professional.
The BMW Live Cockpit Professional with navigation function includes atwo high-quality displays network consisting of a high-resolution 10.25" Control Display that can be operated by touch and a fully digital 12.3" instrument display. The BMW Operating System 7 can also be operated via the iDrive Touch Controller.
BMW Maps.
During planning and preparation, while driving and even while parking: BMW Maps guarantees you an outstanding navigation experience. Make your journey even more comfortable and personal – thanks to the intuitive operation and navigation perfectly tuned to the driver.
DRIVING DYNAMICS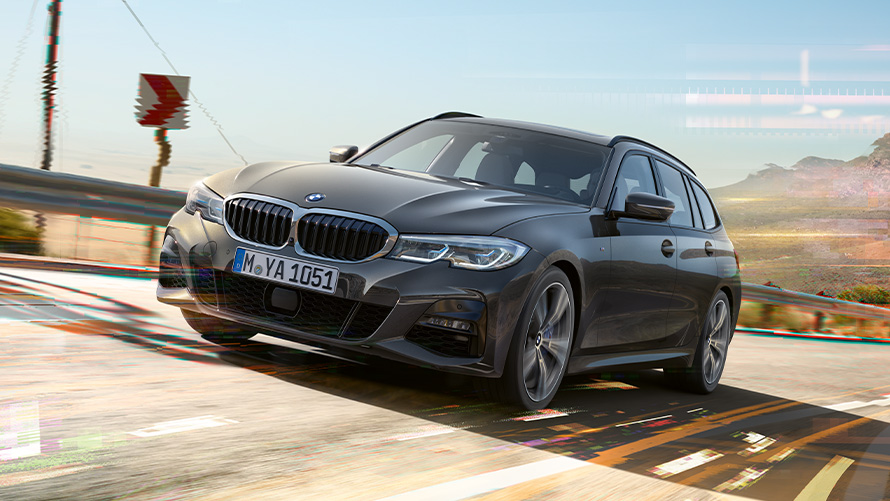 Self-assured power build-up.
Already in pole position before it even sets off: the BMW 3 Series Touring leads its class in terms of performance and driving dynamics. Responsible for this are powerful BMW TwinPower Turbo engines with spontaneous throttle response to guarantee maximum driving pleasure even at low revs. And you can choose the level of sportiness at all times: the Driving Experience Control is able to set the Adaptive M suspension and the Steptronic Sport transmission individually from comfortably smooth to especially sporty. In the background, the optional M sport differential in combination with the Variable sport steering ensures optimum handling and exceedingly agile driving characteristics.
THE DRIVING DYNAMICS OF THE BMW 3 SERIES TOURING.
ADAPTIVE M SUSPENSION.
The 10 millimetre lowered Adaptive M suspension can be electrically adjusted at any time to suit the road and driving conditions. Drivers can also adjust the suspension characteristics via the Driving Experience Control to enable their preferred driving style at the time – from comfortable to extremely athletic with markedly agile handling.
M SPORT BRAKE.
The M Sport brake has four-piston fixed callipers at the front and single-piston floating callipers at the rear in blue with the M designation and features large brake discs to ensure an outstanding braking performance.
VARIABLE SPORT STEERING.
The Variable sport steering with Servotronic creates a direct and agile steering response and ensures that less physical effort is required to turn the wheel. It reacts to the angle of the steering wheel with varying steering ratios. This improves handling when driving more dynamically and reduces the effort needed to steer when parking and turning.
STEPTRONIC SPORT TRANSMISSION.
The 8-speed Steptronic Sport transmission offers incredibly sporty gear changes. Whether automatic or manual using gearshift paddles or gear lever – for comfortable coasting or incredibly dynamic driving. In SPORT mode and with the gear lever in the left-hand S/M position, the gear shifts are configured for the best performance.
BMW 3 SERIES TOURING MODELS.
Model M Sport
The M Sport model gives the vehicle an even sportier touch. In addition to a sharpened appearance in the exterior and interior, the M Sport model guarantees an increase in driving pleasure. The M Sport suspension and the M Aerodynamics package noticeably optimise the driving dynamics.
M Aerodynamics package with front apron, side sills and rear apron in body colour with diffuser insert in Dark Shadow metallic

18" M light alloy wheels Double-spoke style 790 M Bicolour Orbit Grey with mixed tyres; other wheels available

M Sport suspension incl. Variable sport steering; other suspensions available

Exclusive paintwork in M Portimao Blue metallic; other paintworks available

Sport seats for the driver and front passenger in Alcantara/Sensatec combination with perforation and Blue contrast stitching

M leather steering wheel

M anthracite headliner

Instrument cluster with M specific display

M interior trim finishers in Aluminium Tetragon, other trims available

The Model M Sport includes the Model Advantage equipment.
TECHNICAL DATA OF THE BMW 3 SERIES TOURING
The BMW 320i Touring
| | |
| --- | --- |
| Engine power in kW (hp) at 1/min: | |
| Acceleration 0–100 km/h in s: | |
| Fuel consumption combined in l/100 km: | |
| CO2 combined emissions in g/km: | |
PRICES, FINANCING AND LEASING OF THE BMW 3 SERIES TOURING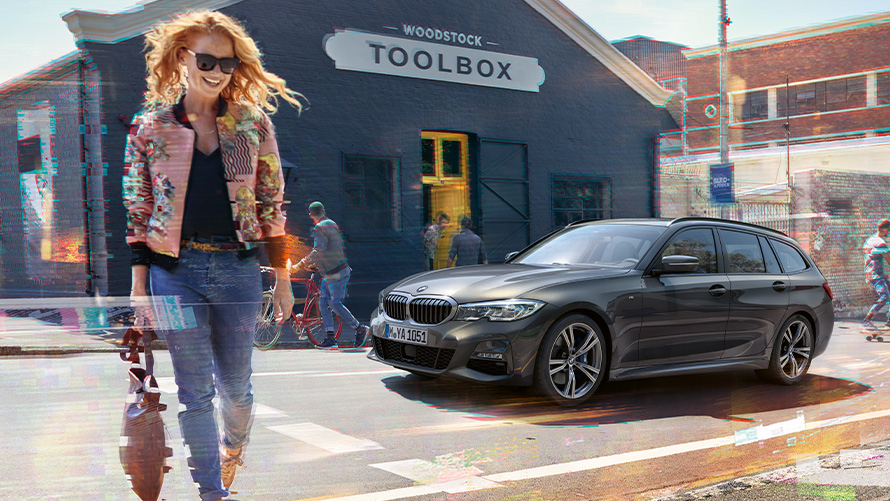 BMW FINANCIAL SERVICES FOR THE BMW 3 SERIES TOURING
Get there quickly and flexibly with tailor-made financial products from BMW Financial Services. Whether financing or leasing - each of our offers is individually tailored to your needs and wishes. Find out more about attractive financing solutions or the right leasing offer for your new BMW 3 Series Touring.
BMW SERVICES.
SERVICE AND ASSISTANCE FOR THE BMW 3 SERIES TOURING.
BMW Service Inclusive.
#whateverhappens: All-round carefree travelling for electric vehicles: this package offers you 100% transparency and convenient ease of planning. You select the term of either 4 or 6 years yourself – or a term of 3 years as a leasing customer. The contents of the service package:
Vehicle check service
Microfilter service
Brake fluid service
Find out more about BMW Service Inclusive
BMW Roadside Assistance.
The free BMW Roadside Assistance service is available to all BMW drivers around the clock, 365 days a year. A single call – and our experts are at your service, either on the phone or on the scene if required.
Find out more about BMW Roadside Assistance
FUEL CONSUMPTION AND CO2 EMISSIONS.
BMW 330i Touring:
Fuel consumption in l/100 km (combined): 7.7–6.8
CO2 emissions in g/km (combined): 176–155
Official figures for fuel consumption, CO2 emissions, electricity consumption and electric range were determined in accordance with the prescribed measurement procedure and comply with Regulation (EU) 715/2007 as amended. WLTP figures take into account any optional equipment in the case of ranges. For vehicles newly type-approved since 01.01.2021, the official specifications exist only according to WLTP. Further information on the NEDC and WLTP measurement methods can be found at www.bmw.de/wltp
Read more
​
Fuel consumption and CO2 emissions.
BMW 330i Touring:
Fuel consumption in l/100 km (combined): 6.9
CO2 emissions in g/km (combined): 157

Official figures for fuel consumption, CO2 emissions, electricity consumption and electric range were determined in accordance with the prescribed measurement procedure and comply with Regulation (EU) 715/2007 as amended. WLTP figures take into account any optional equipment in the case of ranges. For vehicles newly type-approved since 01.01.2021, the official specifications exist only according to WLTP. Further information on the NEDC and WLTP measurement methods can be found at www.bmw.de/wltp